We understand that when it comes to choosing the right solution for you the number of options can become overwhelming so we decided to put an article together to try guide you to the right solution. 
Many people have the first burning question of why would I use two-way radios when I can just use a mobile phone? 
There are a plethora of answers so we will give you just a few scenarios where radios are superior to a mobile phone. In an emergency situation do you have time to take your phone out of your pocket, unlock it, dial a number, wait and pray for them to answer before announcing you are in an emergency situation? Wouldn't it be so much safer and efficient if you had a single button to press where you can broadcast your message instantly to multiple users?
What about when you are working as part of a team in separate areas, to control the flow of customers to ensure social distancing measures are met? It isn't practical to call each member of the team up each time you need to stop he flow of customers or are able to increase it, plus people will be left uninformed and will indefinitely lead to mistakes. 
Then you have situations where you need everyone on site to know there is an intruder, a shoplifter or perhaps just a generic message to ask a question. Phoning each member of staff just isn't practical when you can instantly transmit the message across the site. 
Introduction
Licenced or Licence Free?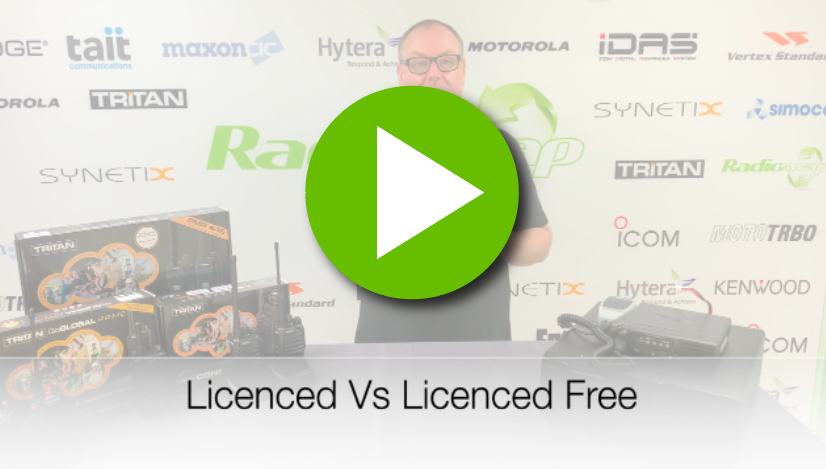 A radio which is licenced is a more powerful radio enabling a vastly increased range to a licence free radio. Many licenced radios are typically 4 or 5 Watt and can produce a range of up to 5000 meters. Licence-free radios, also known as PMR446 radios are typically 0.5 Watt radios, therefore, leading to a vastly reduced range of around 500 meters to 1000 meters. Anyone is able to purchase a licence free radio and without reprogramming is very common to have unexpected users on the same channels as you. We would never recommend a business, in particular, a school to use a licence free radio. 
Obtaining a radio licence is simple and is no different to obtaining a TV licence, you simply go to the OFCOM website, pay the fee and you are instantly accepted. Licences start from £75 for 5 years giving you access to UK Business General frequencies and allowing you to operate 4-5 Watt radios. The licence is charged per radio fleet not per radio so you can cover an unlimited amount of radios under a single licence even if you have multiple sites. 
The distance that the radios will cover is largely dependant on terrain and structures surrounding. Each barrier makes the signal weaker, therefore, distance is not guaranteed. Many people believe a more expensive radio equals greater coverage however this is not necessarily the case. There are very few circumstances where a higher-end radio will make the difference in the desired range being achieved. Instead, it is likely to be a factor such as selecting the right frequency band for your environment and looking at adding a repeater system which will make the difference. 
VHF, UHF or POC? 
To start off with there are two main radio bands, UHF & VHF. They ultimately do the exact same job but in different ways very similar to petrol and diesel. 
VHF Radios are widely used for outdoor applications as the radio signals reflect off barriers. VHF radios are popular in festivals & countryside use. 
UHF Radios are the most popular frequency band and are widely used for indoor applications as the radio signals penetrate barriers. UHF radios are popular in environments such as schools, hospitals, warehouses ect. 
More recently POC radios have been brought into the market and are the biggest advance in radio communication in over a century. These radios utilise 3G/4G/WiFi signals to transmit over an almost unlimted range. This allows for GPS tracking also so is ideal for logistics companies.  
Analogue or Digital?
You also have the option of Analogue or Digital radios. Analogue is the most common type of radio and does the job in most circumstances. However, if you are looking for a more secure method of communication digital radios offer this through encryption. Digital radios also provide more clarity in the sound which can give the illusion of an increased range. 
Additional Features
There are also a wide range of other features you can have on your radio such as Man Down, Bluetooth & Lone Worker. Some environments may requite ATEX approved radios such as oil refineries and other workplaces where their is a high risk of explosions. 
We hope this article has helped to clear up some of the questions you may have. We are more than happy to help you determine the exact solution for you give the office a call on 01709 700 720 or request a call back using the button below. Alternatively email info@radioswap.co.uk and we will aim to get back in touch within 24 hours.